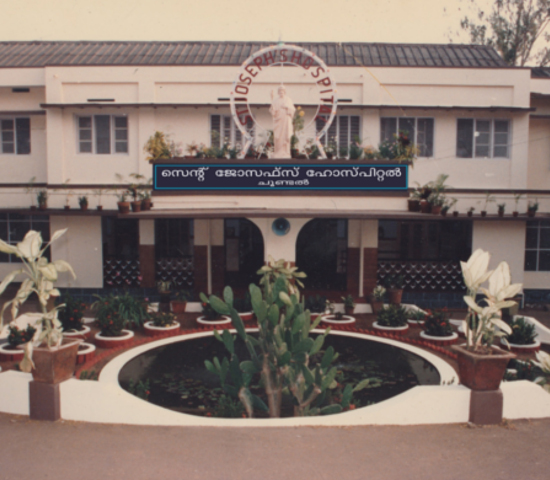 St.Joseph's Hospital was started in 1969 to provide affordable medical care for the common people. It was Fr.G.F.Choondal who started a small dispensary there. The Hospital is situated about 2 kms south east of Thrissur on the Thrissur - Kunnamkulam Highway. Today it has become a 250 bedded multi-specialty hospital. The dedicated service offered by Dr.C.J.Jose, Dr.R.A. Erinjery and Dr.Varma helped the hospital rise to its present position.
The team of doctors who work here today carry on the great work started by them. The Hospital is managed by Rev.Sr. Chrislin as Director, Rev. Sr. Philo Paul Dept. Director, Rev.Sr. Cherupushpam CMC as Administrator and Dr. C. J. Jose as Medical Superintendent. The Hospital has all important departments like General Medicine, General Surgery, Orthopaedics, Neurosurgery, Neuro-Diabetic Clinic, Obstetrics and Gynecology, Pediatrics, Nephrology, Urology, Dental, ENT, Ophthalmology, Cardiology, Anaesthesia, Radiology as well as Homeo and Ayurvedic treatment.There are well equipped Operation Theaters, Endoscope, Colonoscope, C-Arm Colour Doppler, Treadmill Test, Echo, Laparoscopy, CT Scan, Ultrasound scan, fully equipped Physiotherapy Unit, Dialysis Unit, 24 hour Casualty, Medical ICU, Surgical ICU, Neonatal ICU, CTG, Pharmacy, Laboratory, ECG, X Ray, Ambulance, Mobile Mortuary and Medical reimbursement programme.
The Hospital is the Pioneer center for endoscopic thyroid surgery and advanced laparoscopic surgery. All types of Gastrointestinal and Oncological surgeries are done here.A team of eminent , highly qualified doctors ensures quality medical care under all departments. The nursing staff and para-medical staff offer dedicated service in keeping with the motto of service to humanity.The Hospital offers nursing education for the financially backward girls in the area and provides employment. The charitable work includes medical aid to the poor, medical camps in rural areas, aid to poor students and providing jobs to the poor. In keeping with the demands of modern living the Hospital has eco-friendly practices with incinerator, wastewater process, and vegetable cultivation.The motto that life is not merely being alive but being well, is put into practice by the management of the hospital.